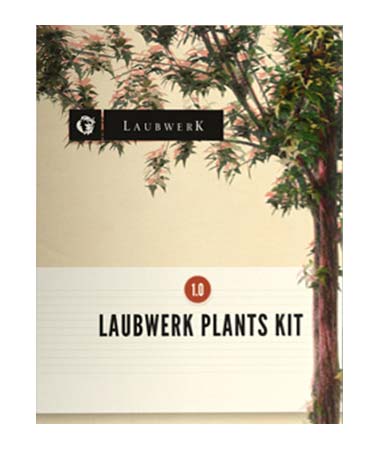 Laubwerk Surfacespread v1.0.39 For C4d R12-R16 | 49 MB
The easy and efficient way to distribute Laubwerk Plants (and any other object) on terrains. The plugin adds a series of parametrical and interactive modeling tools to MAXON Cinema 4D.
Laubwerk SurfaceSPREAD
With the SurfaceSPREAD object, you can quickly scatter vast amounts of object clones such as Laubwerk Plants on surfaces.
Use parametrical tools, environment-sensitive parameters (slope/height) or manually control your distributions with help of splines, vertex painting, bitmaps or distribution modifiers.
Distribute objects!
A special filter system enables you to control the clone distribution with geological rules in a way that is reactive to the landscape's topography (Fractal Breakup, Slope and Height), distribution modifiers and standard filters like poly selections and vertex maps.
All filters can be combined with each other. Scaling and alignment of the clones can be controlled in many ways, to achieve an ideal result.
To ensure a good editor and rendering performance you are provided with a number of performance filters, e.g. to eliminate clones that are outside the camera's field of view, behind mountains or at a greater distance.
You can also reduce their level of detail or display them as bounding boxes.
Create terrains
SurfaceSPREAD is also a high-quality landscape generator, expanding on Cinema 4D's own landscape object to allow users to create elaborately detailed and customizable terrains, including lakes, rivers, and streets, that look great in the foreground, as well as in the distance.
The SPREADscape object generates stunning landscapes and goes a lot further than the standard landscape object of Cinema 4D does.
Build your terrains from up to 7 layers! Each layer can consist of several fractal functions, a spline or a shader/bitmap. All layers can be combined using different mix functions.
Using the spline sculpting function you can e.g. create parametric rivers and roads exactly where you want them, and edit them at any time!
Thanks to the support for shaders and bitmaps you can also use height maps from other programs.
Using the shaping function you can adjust the whole landscape according to your needs and wishes.
Either create a shaping curve yourself or choose from several standards presets, such as Glaciation, Canyonize, Plateau or Dunes.
If you have created an especially nice terrain, save it as a presets file and store it for later use. SurfaceSPREAD is specifically designed to populate ('scatter') large amounts of object clones on surfaces.
Furthermore, it contains a terrain generator, shaders, and other helper objects to satisfy all your landscaping needs inside Cinema 4D.