InPixio Photo Clip 7 Pro Remove Unwanted Objects-Background from your Photos.
InPixio Photo Clip 7 is an all-in-one photo management and editing solution software that offers the easiest way to edit photo with automation tools.
InPixio Photo Clip is basically designed as an object eraser tool, It features with the tools and sophisticated algorithms with the support of automation almost every tools.
This software allows you to easily remove unwanted objects from photos with just a few easy steps. However, as the development, it evolved so now it comes with advanced photo management capabilities.
Photo Clip offers a complete photo editing and photo management tools from cutting-out, to basic photo editing and photo management solutions.
Photo Clip is easy to use, photo editing software that allows you to remove unwanted objects from digital images then automatically replaces the background for professional photo results.
The software is very easy-to-use with the user-friendly interface, allows everyone to control of your digital images, such as cut out any details, objects or even scenery from your photos and remove distracting details.
Moreover, Photo Clip 7 also comes with built-in photo manager, it helps you manage your digital assets with tags and keywords that become searchable and straightforward.
Key features:
☑ Automatically identify the sections of an image
☑ Can enlarge images up-to 10x with Ultra zoom
☑ Easy way to remove unwanted objects
☑ Enlarge the smallest details from your images
☑ Highest quality results for printing
☑ Remove all kinds of watermarks
☑ Remove scaffolding or shadows from your images
☑ Replace unwanted objects with new background
☑ Restores your photo pixel by pixel
☑ Very easy-to-use, and many more.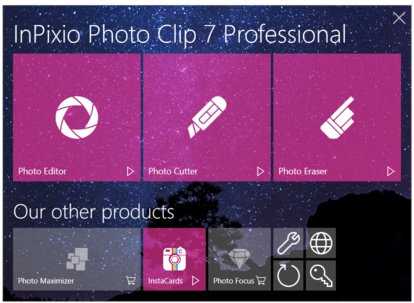 Get more from your photos.
Everyone has a photo with that stranger in the background, a car driving by, or house behind us under construction.
Wouldn't it be nice to be able to take those unwanted images completely out of your picture, erase your entire background, or even change your background to make it look like you are somewhere else?
Well, now you can do it all quickly and easily with Photo Clip.
Remove unwanted objects like magic!
drag Completely removes unwanted objects from your picture.
Signs, wires, people, or any image that distracts you from what you are trying to capture.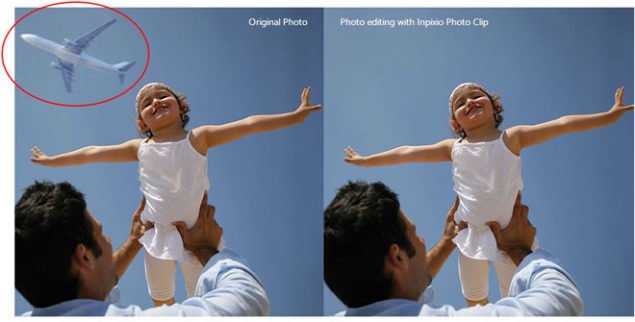 Images against a single-colored background can be easily extracted with one click thanks to the automatic color detection function.
Erase things that spoil your images
drag. No need to worry about waiting for that perfect picture in a tourist hotspot during your vacation.
Just quickly take your picture, and then take out all the other unwanted distractions when you get home using Photo Clip.
Take the hassle out of trying to carefully cut out images that take time and concentration.
Other image processing programs require you to be exact and it can be quite noticeable that you have altered your picture in some way.
The technical features of Photo Clip automatically identify the sections of an image that need to be filled in and make your new photo look natural and seamless.
Retouch your photos and apply effects
With the pro version of InPixio Photo Clip, one can modify images with +100 effects and filters.
This version includes a complete editing tool to allow you to edit, enhance, and touch-up photos
Remove objects, replace backgrounds and build amazing photo montages you can share!